letter paper
These are pretty similar to letterheads that we've had in the past, and may still be hanging around here somewhere. The idea is to give you sheets of paper to write a letter on. Now, a normal letter doesn't require any specific paper, we know that, we're not trying to reinvent the wheel. However, there are a lot of folks out there that might only write letters a few times a year, and want to have a real special paper on which to write their sweet sentiments. There is also a small group of people who order these as gifts each year, and we could do better for everyone.
I think our first versions of these were for the Holidays. Holiday Themed paper to write your letters to Santa Claus and Grandma in Florida. We've expanded quite a bit and gave these a stand alone category, and opened it up to being more than just the holidays, but that's still a good use for it, don't get us wrong. We just saw an opportunity to let some people in on the product, like those in business, or those who have needs for stationery like this regularly. Letterheads didn't really do the trick as keyword goes, so we're hoping Letter Writing Paper does a bit better.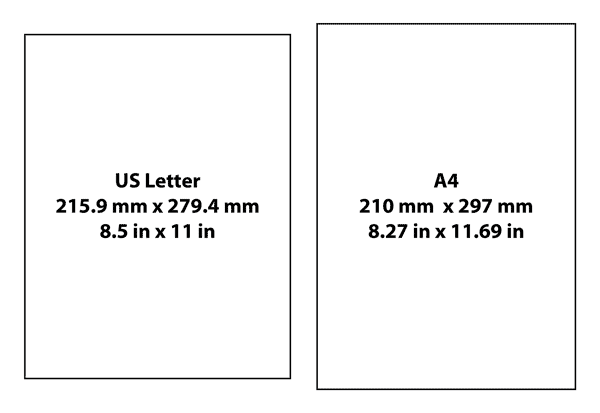 A4 sheets have a width of 210 mm and a length of 297 mm. A4 paper size sheets are part of the ISO 216 system that has been internationally adopted. The size is printable in most common home and office printers and has become the standard copy paper sheet.
US Letter paper has a width of 215.9 mm with a length of 279.4 mm. US Letter is defined by the ANSI and used throughout North & South America. It is the standard copy paper sheet and can be used in most home and office printers.
Letter is a paper size that is used for a wide range of documents, including magazines, catalogs, letters, and forms. It is also called ANSI A or American Quarto.
A Letter size page measures 215.9 × 279.4 millimeters or 8.50 × 11.00 inches. In PostScript, its dimensions are 612 × 792 points.
References:
http://uk.onlinelabels.com/articles/difference-between-us-letter-a4-paper-sheets
http://www.prepressure.com/library/paper-size/letter
http://www.merriam-webster.com/dictionary/format